Frequently Asked Questions
Answer-
"Natural White" is a creamy off white. Natural white is not dyed or bleached. Its 100% natural wool. "Winter White" is closer to pure white. We slightly bleach the wool to get it whiter. Please note that "winter white" is not pure white but it is much whiter than the natural.
Answer-
Flokati rugs are measured in "weight". The weight determines the thickness and quality of your rug. We sell the 3 best qualities made. (2000 gram, 3000 gram and 4000 gram)
The 2000 gram weight offers a nice 2.5" inch wool pile and wool backing. It is a good quality - all wool flokati. Perfect for kids rooms, spare rooms and guest rooms. We also like this weight for dining rooms.
The 3000 gram weight is the most popular weight we sell. It's thick and plush with a great price point. It yields a 3-3.5" inch pile. The 3000 gram is THICKER in density than the 2000 gram. It also has a heavier backing and longer pile than the 2000 gram weight. Perfect for living rooms, bedrooms and all living area's. Great quality and price-point.
The 4000 gram weight is the thickest flokati made. It is extremely thick and plush with a long 4" - 4.5" wool pile. The backing is also heavier than the other weights. The 4000 gram will look great in your loft or high end home.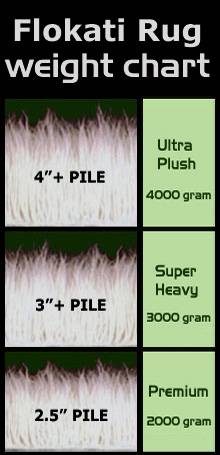 Answer- Flokati rugs are very durable and make great rugs. Its not uncommon to have your rug for 10 years or longer.. especially the 3000 and 4000 gram weights. Flokati shag rugs are inherently stain resistant due to the natural oils in the wool. Most spills come right out with a damp cloth. Remember- since these rugs are WOOL - you'll want to avoid HEAT when cleaning. No hot water.
Flokati rugs can be vacuumed. The trick is to vacuum in ONE direction. Don't go forward and backward with your vacuum. Place your vacuum in the middle of your flokati. Then pull it back towards the edge. Pick up the vacuum and place it in the middle again and repeat.
Occasionally pick up your rug and shake it out. This will lift the pile and make it look great. Do one corner at a time with larger rugs.
Spot clean your flokati rug with cool water and a mild detergent or dish-washing liquid. We also recommend "RESOLVE" foam rug cleaner. It works great on flokati rugs and will take out just about any stain. It can be found at most Home Stores and larger food retailers.
Flokati rugs are also machine washable. (Depending on size) Use cool water and a mild detergent (woolite). Apply PLENTY of liquid fabric softener. Air dry or tumble dry with no heat.
You can use a stiff bristle plastic brush to also clean your flokati. No fancy rake required. Brush your rug to quickly remove dust and dirt. Works great on flat spots or if you just want the wool to go a certain way. Brushing is a great fast clean for pet owners too.
Answer- Yes we do ship internationally: Call us at 1-800-844-5345 or email to get a shipping quote and time frame. We will get the lowest shipping rates possible.